Jan 19, 2006
#138 - Friends from afar . . .
Across the miles,
Bore stiff from usual life,
Chatting becomes the platform.
Delinquency is out from the box coz
Etiquette rules in the room, thus;
Friendship blossom that
Gathered with wits and humor.
Hot-to-trot conversion sometimes flares up but
Individualism is respected and
Juggling's one life is out of the game.
Kicksy-wicksy ideas synchronized.
Love for blog, chat and among other things combined.
Mystified on everyday's life!
Now that camaraderie boom and developed,
Others find it odd to believe,
Presuming negative, FOR ALL I CARE!
Quip,
Reverence,
Sharing,
Talkabout
Unity,
Vision,
Walkabout,
Xtreme thinker
You wouldn't believe it? Try one and find one!
Zestful to have a friend like them!

:: Posted by Mmy-Lei :: 01:04 :: # :: 15 Comments:


~~~~oo~~oo~~::>>Mmy-Lei<<::~~oo~~oo~~~~
Jan 16, 2006
#137 - Weird Habits & Presents

Again, I was tagged by Chas.

Simple Rules:
Just list top-5 of your Weird Habits
Pass to 5 friends
Leave a comment or tag on 5 friends informing that you tagged them.


My Top-5 Weird Habits (It's normal for me!)
1. I couldn't sleep without scratching my feet on my leg pillow or to my partner's leg.
2. I overcome nail biting but im into ring-finger-biting now…hehehe! Nails cost me too much!
3. Kikoman, Vinegar or Fish Sauce must be included in my meal as my dip or else I'll loose my appetite.
4. I'm a certified coffee addict! -- 7 to 9 mugs a day.
5. Whenever I go to the river, lake or beach, I always imagine that something under the water will crawl and take me … and I will take whoever near me… hehehe
I'm passing this tag to

Ninang Racky

,

Ayie

,

Wendy

,

Ate Ethel

and

Jen

.




--

Hmmmm, Chocolates!!!

I didn't include this in my list coz I don't find it weird being addicted to chocolate. I'm sure there are people like me who craves on chocolates. Hmmm, how I wish Willy Wonka is for real so that I could purchase his chocolates.

"Mr Willy Wonka can make marshmallows that taste of violets, and rich caramels that change colour every ten seconds as you suck them, and little feathery sweets that melt away deliciously the moment you put them between your lips. He can make chewing-gum that never loses its taste, and sugar balloons that you can blow up to enormous sizes before you pop them with a pin and gobble them up. And, by a most secret method, he can make lovely blue birds' eggs with black spots on them, and when you put one of these in your mouth, it gradually gets smaller and smaller until suddenly there is nothing left except a tiny little DARKRED sugary baby bird sitting on the tip of your tongue."

Grandpa Joe (Charlie and the Chocolate Factory)


--

Anyway, aside from Willy, I got chocolates from KD/Tita Ann & Ninang Neng.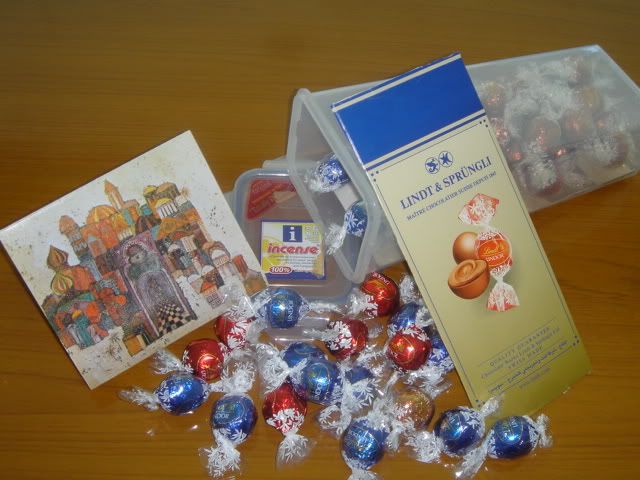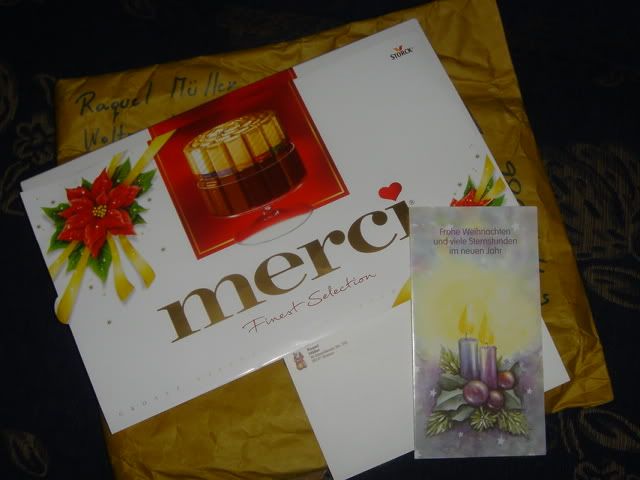 -
Thank you!

:: Posted by Mmy-Lei :: 00:45 :: # :: 10 Comments:


~~~~oo~~oo~~::>>Mmy-Lei<<::~~oo~~oo~~~~
Jan 8, 2006
#136 - Him ... Robot
Ate Ethel
&
Pipay
tagged me. So I join the bandwagon on this "Wanted – Perfect Robot…aka LOVER" .
Target: Male

1. He must understand that female species has an equal right on this world.

2. He must accept the fact that female species can be a part of "Business World"

3. He must sacrifice his alter ego and learn to accept the new World "WE" instead of "I" once he commit the sanctity of marriage.

4. He must be skillful, responsible and clever on everything to become the head of the family.

5. He must be patient when a female species undergoes a hormonal change in her body - PMS period.

6. He must have the stamina to fulfill the needs of female species especially species under the sign of "Scorpio".

7. He must know the household chores - the give and take responsibility.

8. Above all, he must respect and love the female species.


--
I will only pass this to fafa KD who is under hiatus at this moment.

"KD, I don't have the right to say anything but I wanted you to know that I/We are still hoping that you'll come to your senses and come back to blogsphere. Blogsphere will never be the same without you."

:: Posted by Mmy-Lei :: 00:34 :: # :: 11 Comments:


~~~~oo~~oo~~::>>Mmy-Lei<<::~~oo~~oo~~~~
Jan 2, 2006
#135 - Boy Bawang

Maraming salamat Darl..... ang sarap ng Boy Bawang with suka....



Boy Bawang plus Christmas Card





Ang Babaeng Desperada




Ng Makakain ng Boy Bawang




Ang Bruha naging maligaya




--
Thank you so much for my request. nagulat ako at tinotoo nyo pala...ayan at nawala ang lagnat ko!!! *muah*

:: Posted by Mmy-Lei :: 09:14 :: # :: 22 Comments:


~~~~oo~~oo~~::>>Mmy-Lei<<::~~oo~~oo~~~~