Oct 17, 2005
#129 - Finale
KARMA!!!

Yan lang ang pde kong sabihin sayo.

Hindi ba masakit?

Ibinigay ko sayo noon ang suporta ko, kahit mali at may ebidensya ako na hindi SYA ang may gawa ng mga mensahe syo. Pero ano ang sinukli mo sa akin?

Una - tinira mo ako sa bahay mo, may narinig ka bang masakit na salita sa akin? Hindi kita pinatulan dahil may pinag-aralan ako.

Pangalawa - Hindi ba masakit kapag nalaman mo na ang personal mong liham sa kaibigan ay pinapasa sa iba? Ganyan ang ginawa mo sa akin. Tinitira mo ako ng patalikod!

Ayoko ng gulo. Nanahimik ako at nagkakalap ng mga ebidensya, pero hindi na pala kailangan dahil lahat na ng tao dito sa blogsphere ay gumagawa na rin nyan.

KARMA – dahil bumabalik na sayo ang mga pinaggagawa mo…. Ang mga personal mong liham na kumukutya sa ibang grupo ay umiikot na ngayon at isa ako sa nabigyan.

Hindi ka dapat magalit sa kanila, dahil tinatama lang nila ang mga MALI mong ginawa.

Dapat ba akong matuwa? Hindi, bagkus naaawa ako syo.

:: Posted by Mmy-Lei :: 22:50 :: # ::




~~~~oo~~oo~~::>>Mmy-Lei<<::~~oo~~oo~~~~




Oct 16, 2005
#128 - End

grabe pala ang buhay...
akala mo ok lang, yun pala maraming kumplikasyon...
kapag binabato ka, pilit mong iniiwas ang sarili sa gulo...mali pala.

kaibigan? hanggang kelan? tunay ka nga ba o tanso?
bakit patalikod ka bumanat? tama ba iyon?
tama bang personal na mga liham ikalat mo?

kaibigan? hanggang kelan? tunay ka nga ba o tanso?
bakit kailangan lagi kang may naaapakan? masaya ka ba dun?
tama bang manakit at manghamak ng tao?

kaibigan? hanggang kelan? tunay ka nga ba o tanso?
bakit tumahimik ka? natakot ka ba?
tama bang manahimik at iwanan sa ere ang kaibigan?

ayoko na, ako na lamang ang aalis...
salamat sa konting panahon...
kahit papaano me naibigay akong konting pruweba...
paalam...

:: Posted by Mmy-Lei :: 23:47 :: # ::




~~~~oo~~oo~~::>>Mmy-Lei<<::~~oo~~oo~~~~




Oct 12, 2005
#127 - Isa pa!... Isa pa!...
Napapanahon na naman ng hulaan
Kaya eto ako at may gustong pahulaan
Hindi ito para sa aking kinabukasan
Bagkus para sa mga kinauukulan

Kailanman ay di ako nang-umit
Sapagkat magagalit ang buong kumite.
Kaya ipinapaalam ko na senyo.
Na ang larawang ito ay may permiso.

Ako ngayon ay humihingi na ng paumanhin
Baka kako ako ay may masanggi
Ito ay para sa mga taong di-sensitibo
Kaya lumayas ka kung ikaw ay negatibo

Wala akong intensyong manira ng kapwa
Ang tangi ko lamang hangad ay magpasaya.
Walang premyo, walang balato
Sapagkat ako ay isang bato.

Kilala mo ba sya?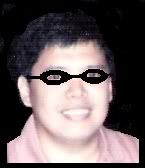 :: Posted by Mmy-Lei :: 00:58 :: # :: 40 Comments:


~~~~oo~~oo~~::>>Mmy-Lei<<::~~oo~~oo~~~~
Oct 10, 2005
#126 - FeAR FactoR

"Fear attracts the fearful. The strong. The weak. The innocent. The corrupt. Fear. Fear is my ally." - Darth Maul (Star Wars Episode I: The Phantom Menace.)

--



F E A R is the greatest problem to overcome.
A FOUR-letter short word.
That denotes HIGH-powered pessimistic emotions.
A complicated dilemma that once you got SUCK, play the game!
Either a KEEN player or garner your strength to fight back.
An attitude! Perhaps, it's your VIEW…
or could be GAINed…
Others are adamant to SHOW such things.
Pride and Prejudice rules out to VEIL such emotions
But deep in their heart hides, a small spot called "F E A R".


--

Fear is present. Fear exists. Fear is everywhere!

Fear could be from people, situation or things.

Sometimes, an act of bravery vanished if this killer feeling attacks. Cowardice tends to terrify the innersole that engulfs the mental capacity to think and act accordingly.

:: Posted by Mmy-Lei :: 00:07 :: # :: 8 Comments:


~~~~oo~~oo~~::>>Mmy-Lei<<::~~oo~~oo~~~~
Oct 6, 2005
#125 - BSE
It's Breast Health and Cancer Awareness Month again and I'm an advocate of this campaign (Check my previous
post
).

I just want to share to all women out there the importance of Breast Self Exam (BSE). BSE could be the key or tool to finding out a cancerous lump. I know that some women don't practice BSE coz they find it frightening or frustrating experience to check their breasts. But there's no harm to do it.

Try to make it a habit after a few days or after 5 days of your period. If you feel a lump, Don't Panic. Breast tissue is often very lumpy. The upper outer quadrant of most women breasts tends to be the lumpiest. The lower half of the breast is often pebbly feeling and the area under the nipple often feels like course sand.

To find out more, Here's the FIVE Easy Steps of BSE.
1. LOOK
Stand in front of the mirror and look at your breast carefully. Keep your shoulders straight and put your hands on your hips. Look at the size of each of your breasts. Are they more or less the same? Look for any obvious distortion or swelling. Do you see any puckering of the skin, dimpling or bulging? Are there any areas of rash or redness? Have your nipples changed position?

2. LOOK AGAIN
This time with your arm raised then do #1.

3. CHECK YOUR NIPPLES
Gently squeeze each nipple between your fingers and look for discharge. If there is a discharge, note the color (Bloody, milky, yellow, clear)


4. FEEL
Feel all 4 areas of importance.
- The breast itself
- The area between the breast and the underarm
- The underarm itself
- The area above the breast up to the collarbone.

Use your left hand to feel the right breast and your right hand to feel the left breast. Hold your fingers flat and together and press down with the pads of your fingertips. Press gently at first but then increase the pressure so that you can feel the tissue down to your ribs.

Stand up with your arm raised on the side. It may be easiest to do this step when you are in the shower.

Follow a pattern to be sure that you cover all 4 areas. A circular pattern of concentric circles out from the nipple works.

Moving up and down the breast vertically in rows from one side to the other.

5. FEEL AGAIN
This time, lay down with the arm tucked under your head then do #4.

To know more about Breast Cancer check this site www.nationalbreastcancer.org


:: Posted by Mmy-Lei :: 02:21 :: # :: 7 Comments:


~~~~oo~~oo~~::>>Mmy-Lei<<::~~oo~~oo~~~~
Oct 3, 2005
#124 - Mr. Sunshine

Good morning mr. sunshine,
you brighten up my day.
Come sit beside me in your way.
I see you every morning,
outside the restaurants,
The music plays so nonchalant.

Lonely days, lonely nights.
Where would I be without my man?

Lonely days, lonely nights.
Where would I be without my man?

:: Posted by Mmy-Lei :: 06:29 :: # :: 7 Comments:


~~~~oo~~oo~~::>>Mmy-Lei<<::~~oo~~oo~~~~