It's my 100th entry!!!

Anyway, I am indebted to
Mae
and
Daday
who pushed me to setup my own blog! Thank you! Muahhhhh...
And other reasons why I stay tuned to my Blog.
- I gained BLOGging friends.
- I got an itch for menus now. Rors was the one who told me about it and it's fun! (Just wait for me Rors and it's all yours.)
- It's my guinea pig to enhance and practice my ancient web skills.
- It's my outlet for my depression, homesickness & boring life.
- It's my instrument to thank and praise people.
- It's my tactic to disparage dim-witted people
- I got advices & techniques on digital photography.
- I got good reviews on books and movies.
- It's my channel for my family, friends, colleagues, classmates, schoolmates & detractors that I'm still alive and kicking and my life is still in normal state.
- I don't care if the world will know that I'm a BITCH (*sometimes*)
--
Eto resulta ng wala sa Pilipinas, walang bundok na maakyatan, walang ka-dive buddy na mapagkakatiwalaan at walang tropa. Walang magawa kundi magbasa, magpinta, mag-gantsilyo, magsulat, tumambay sa kapihan para magmasid o makisama sa gimik ng iba. Ang hirap kapag iba ang trip mo sa trip ng kasama mo. Wala kang magawa kundi makisama kesa mabansagan kang "others". Pero ok din naman ang buhay dito kahit papaano, kakailanganin mo lang talaga ng lakas ng loob, pananalig sa maykapal at kapalan ng mukha. Kaya ko pa!!!

:: Posted by Mmy-Lei :: 01:04 :: # :: 8 Comments:


~~~~oo~~oo~~::>>Mmy-Lei<<::~~oo~~oo~~~~
Apr 10, 2005
#99 - GK
It's 10:55pm here, my neighbors are driving me crazy and my headache is killing me. I slept early today but I woke up from ear-splitting noise. The usual, my door is vibrating from too much noise of my neighbor's home theater. Arrghhh, I cant go back to sleep!!!
I decided to read my new book but my headache got worse so I gave up. I must see an optometrist to recheck the grade of my eyes.
Then I check my emails, my blog and surf the net.
As I was browsing, I couldn't help to go back to Gibran Kahlil's site eventhough it gives me creeps this morning when I check it out that today is his 74th Death Anniversary. What a freaking coincidence!
I got interested on him again. When my friend found out how addictive I was on books, he reminded me about GK works. He asked me if I heard or read his books. The name is familiar but I couldn't figure out what type of an author he was. Then my friend shared about GK's life, works, books and painting. Until such time that he told me about GK's bestselling book "The Prophet" that I remember him. He was with me during my high school literature days. Now I remember how my teacher was nuts on his works (May their souls rest in peace) that she wanted us to memorized his prose. From GK's collection of poems, this is what I like most
"Love gives naught but itself, and takes naught from itself". – The Prophet, GK
Now, I couldn't wait for that book that my friend promised me.
Ouch!! It's creepy here. I better go back to my bed.
--
"I am a stranger to myself. I hear my tongue speak, but my ears find that voice strange. I may see my hidden self laughing, crying, defiant frightened, and thus does my being become enamored of my being and thus my soul begs my soul for explanation. But I remain unknown, hidden, shrouded in fog, veiled in silence."
- from The Poet, GK
"When love beckons to you, follow him,
Though his ways is hard and steep
And when hi wings unfold you, yield him.
Though the sword hidden among his pinions may wound you,
And when he speaks to you believe in him
Though his voice may shatter your dreams
As the north winds lays waste the garden ."
- from The Prophet, GK

:: Posted by Mmy-Lei :: 23:02 :: # :: 5 Comments:


~~~~oo~~oo~~::>>Mmy-Lei<<::~~oo~~oo~~~~
Apr 5, 2005
#98 - Ang BaKYA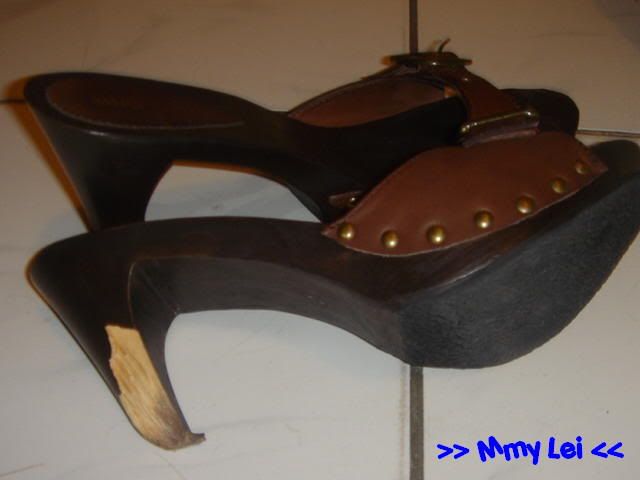 Ang bakya ni Serena!

Naalala ko pa ng una kang makita!
Napakarikit at kaaya-aya sa mata.
Di mapukaw ang paningin,
Dahil akmang-akma ka sa akin!

Ngunit sa dinami-dami pa,
Ika'y naibigan din ng aking amiga!
Nakakalumo lalo na't ikaw tatak MANGA!
Walang magawa kundi ipamigay ka.

Di inalintana ang sariling kagustuhan
Ibinili pa para sa kaibigan.
O anong tuwa ng bruha kong amiga,
Eto ako, nakatunganga!

Pero teka at bakit iba ka na!
Eto ang amiga at lumuluha.
Ang dating marikit at kaaya-aya,
Ngayon ay pangit na!

Wala palang tibay na maasahan sayo
Tatak MANGA pa naman, ngunit ano!
Bakyang bakya ang hitsura ng amiga ko
Eto ngayon ang hitsura ng bakya mo!

Napahiya pa tuloy ako!!!



--

I was so embarrassed to my friend. I bought her a sandal from Mango Shop. She used it and all she got was humiliation. It is only two-weeks old and according to the receipt, that if we are not satisfied Mango will refund the purchase during one month after the purchase date by simply showing the receipt. But all we got was a rejection.

Definitely, this store will be out from my list.


:: Posted by Mmy-Lei :: 05:57 :: # :: 9 Comments:


~~~~oo~~oo~~::>>Mmy-Lei<<::~~oo~~oo~~~~
Apr 4, 2005
#97 – 264th Pontiff
I saw him.
I heard him.
I was there when he celebrated the Mass during World Youth Day in the Philippines.
I cried when I heard that he passed away.
I can't even compose an entry/poem for him.

Let's pray for his soul.
Let's pray that God guides the College of Cardinals once Conclave starts and casts their vote for the new Pope.


--
I felt guilty because I was a stupid bitch trying to forget my own dilemma in a bar when he died at 11:30pm – time here.

:: Posted by Mmy-Lei :: 02:08 :: # :: 0 Comments:


~~~~oo~~oo~~::>>Mmy-Lei<<::~~oo~~oo~~~~